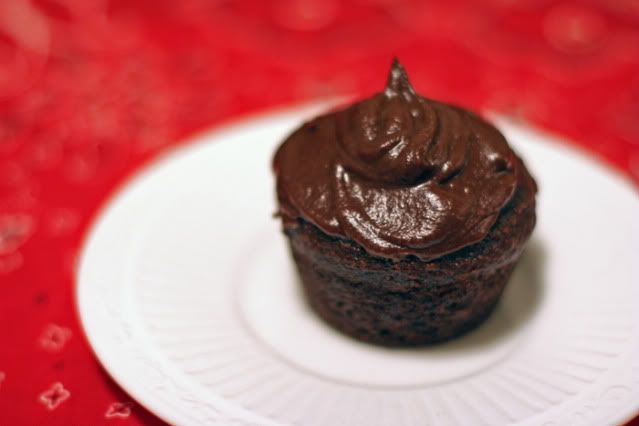 Tonight I baked these chocolate cupcakes and they are amazing! I adapted
the recipe
from one of my favorite blogs,
The Baking Bird
. I'm excited about all of the vegan cooking I've been able to do lately. Being vegan is something I have wanted for a long time, but never felt was feasible. I actually feel like it might easily happen within the next few months. I'm making slow transitional steps. And even if I decide not to be completely vegan, I think the closer I come, the better. It makes total sense for all the same reasons I want to be a vegetarian. I won't go into it right now...but I have many valid reasons.
The recipe from the Baking Bird calls for crushed peanut butter Newman-O's, but I didn't have any type of cookies to crumble so I just added 1/2 cup extra flour to compensate. I also didn't have all of the frosting ingredients so I just made frosting by creaming powdered sugar, cocoa powder, vanilla, water, and vegan butter. The cupcakes themselves are fantastic though. Here is the recipe exactly as I made it:
Chocolate Vegan Cupcakes

1 cup soy milk
1 teaspoon vinegar
3/4 cup granulated sugar
1/3 cup canola oil
1 1/2 teaspoons vanilla extract
1 cup whole wheat flour
1/2 cup unbleached all-purpose flour
1/3 cup cocoa powder
3/4 teaspoon baking soda
1/2 teaspoon baking powder
1/4 teaspoon salt
1. Preheat oven to 350 degrees and line muffin pan with paper or foil liners.
2. Whisk together soy milk and vinegar in a large bowl, and set aside for a few minutes to curdle. Add the sugar, oil, and vanilla extract, and other extract, if using, to the soy milk mixture and beat till foamy. In a separate bowl, sift together the flour, cocoa powder, baking soda, baking powder, and salt. Add in two batches to wet ingredients and beat till no large lumps remain.
3. Pour into liners, filling three quarters of the way. Bake 18 to 20 minutes, until a toothpick inserted into the center comes out clean. Transfer to cooling rack and let cool completely.